If one must have a favorite Cowboy, worse can be had than second-year player
Martellus Bennett
. He's a solid tight end, an often
hilarious Twitterer
, and now a stadium tour guide.
This week on Marty B TV is a
tour of JerryWorld
, the
Cowboys
' new still-under-construction facility set to make Yankee Stadium seem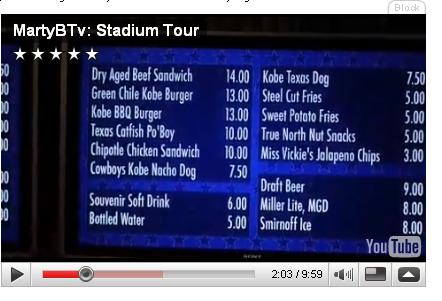 more like Ozzie Guillen's
take on Wrigley Field
.
While the ostrich-leather seats are impressive, it's the concession stand menu that screams nouveau-Texas bbq.
There's the dry aged beef sandwich for $14, the Texas catfish po'boy is available for $10 and the steel cut fries for $5 (I thought "hand cut" was still the in-fry making slicing, but who knows). A draft beer will set you back $9. But it's the four Kobe items that either represent a culinary revolution in stadium food, or one helluva marketing push.
They are:
Green chile Kobe burger for $13
Kobe BBQ burger for $13
Cowboys Kobe nacho dog for $7.50
Kobe Texas dog for $7.50
Quite the Asian influence in the land of barbecue. There are also, as Marty B says, "sesame seed hot dog buns, which you don't see (elsewhere)." So that's a nice touch.
After eating all the Kobe goodness, it's important to have a nice throne to plant one's backend on. The restrooms are marble-encrusted and featuring stainless steel doors (not just for fridges anymore) on the stalls. Oh, and the latrines? They're made from "elephant tusk," according to Bennett, which would be highly unethical, and not to mention a wee bit illegal.
So yeah, it seems to be shaping up to be quite the dandy Dallas palace for
Tony Romo
and friends to play eight games each season.