By the end of the first quarter of the Nets-Thunder game Monday night I knew I was watching a good player.
By the end of the game, I knew I had seen a special player.
Good: Brook Lopez ended the first quarter with 14 points.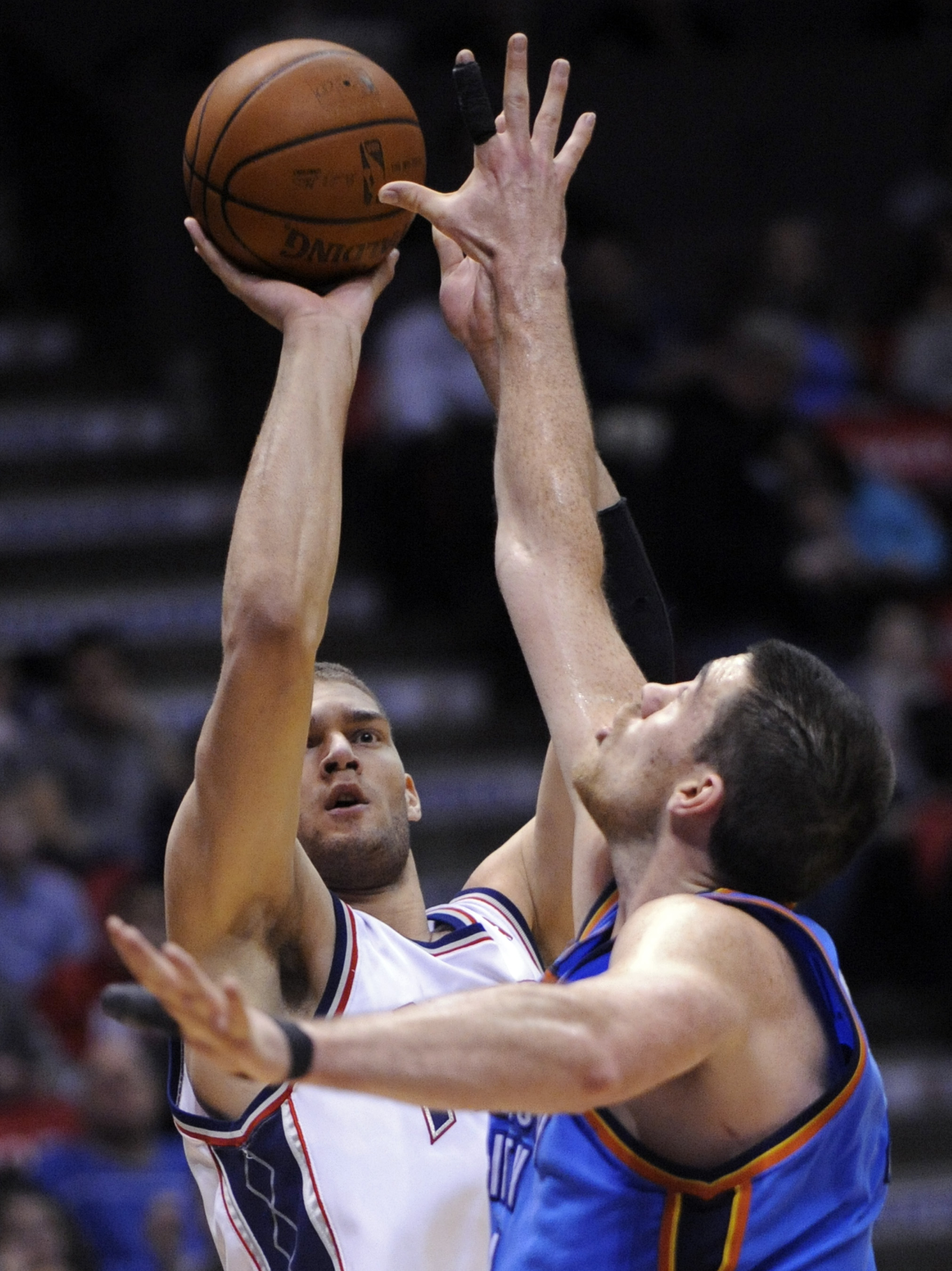 Special: Brook Lopez ended 41 minutes of on-court time with a career-high 31 points on 10-of-17 shooting, 13 rebounds (five offensive), two blocks and two fouls. He was an unstoppable force from anywhere on the court.
Hyperbole? Not this time.
He dunked the ball a few times. He made mid-range jumpers and even a few from around 18-feet. The free-throw line? How about 11-for-12.
If he received the ball down low, there was no stopping him. Yes, what the Thunder lack in size, they make up for in, uh, good intentions, but Lopez was a man on fire Monday night.
But before we can talk about the future of the Nets, we have to talk about the past of the Magic. And by past, I mean very, very recent past. The year is 2004, the phenom was Dwight Howard.
In his rookie season with the Magic Howard averaged 12 points per game, 10 rebounds, 1.7 blocks and shot 52 percent from the field.
Lopez is averaging 10.7 points per game, 8.2 rebounds, two blocks and is shooting nearly 48 percent from the floor. He's an 80.5 percent free-throw shooter.
Numbers don't always tell the whole story, but they help get it started.
Lopez is also taller, longer, and more polished than Howard. Of course, he'll be 21 in April and spent two years working his game at a good basketball program. Howard entered the league at 19 straight out of Southwest Atlanta Christian Academy in Georgia. But in Lopez I see Howard. I see a center who isn't out of place no matter the tempo of the game. I see not just an athlete, but a basketball player. I may be wrong about his ceiling, but his floor sure as hell won't be a Todd MacCulloch-ian career of foot problems and DNPs.
That's because when Lopez gets the ball, like Howard, there's a sense he's either going to a. put it through the hoop or b. not hurt his team.
Don't ignore point b. So many big men kill a possession with their inability to pass or shoot.
But it's point a. that has my attention -- and soon yours. As a rookie center on a team with two legit scoring options in Vince Carter and Devin Harris, Lopez has cracked double-digit scoring in 23 0f 39 games. He's topped 20 or more five times. He can rebound like David Lee at times, yet get his hands up like Ben Wallace in his prime (six games with four or more blocked shots).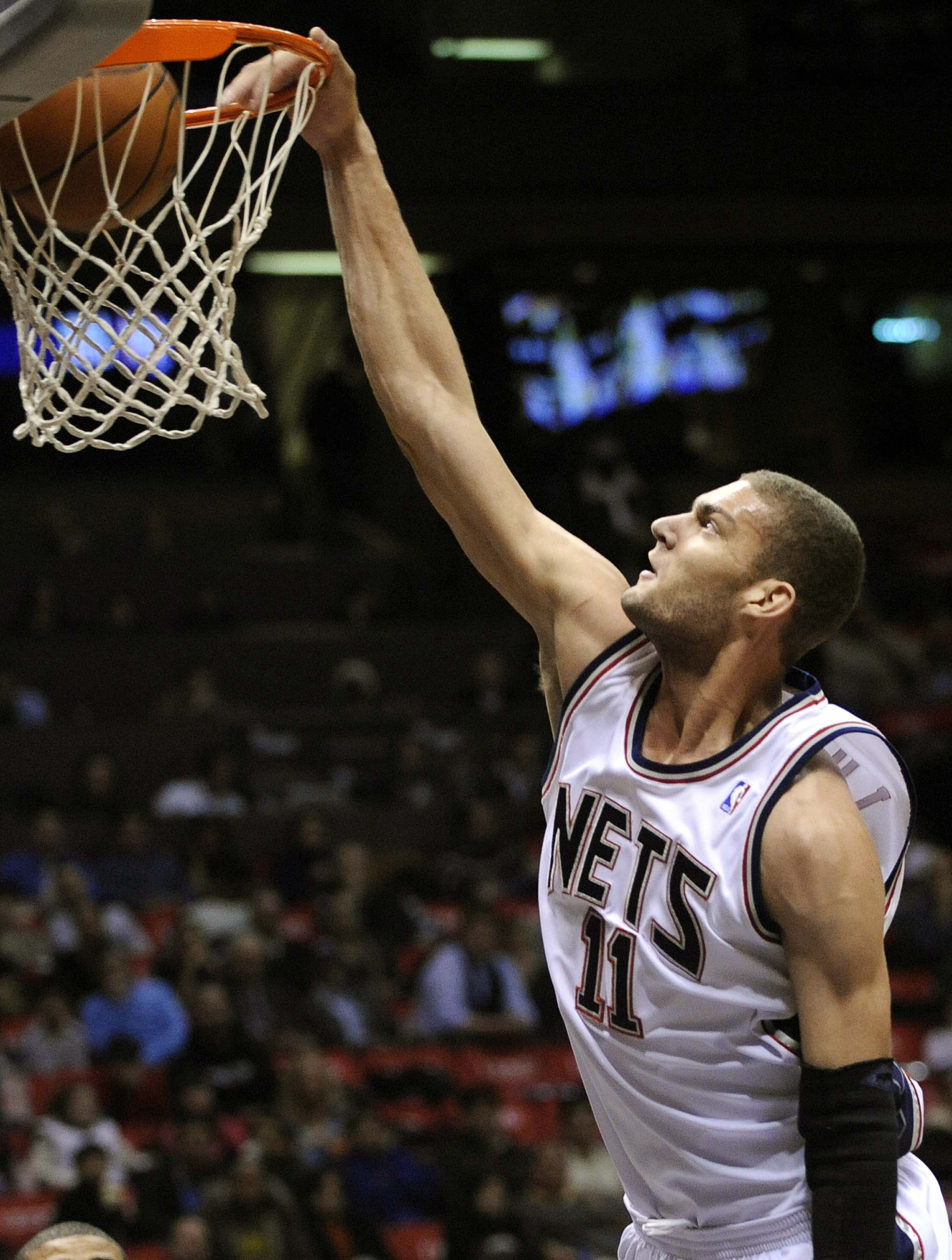 The beauty of what I saw from Lopez was: He keeps the ball up high, and doesn't find the annoying need to bring it back to the court before elevating. To contrast, fellow first-round pick Ryan Anderson (6-10 out of Cal) probably lost three or four possessions vs. the Thunder because he wasn't comfortable finishing a play without first putting the ball on the court.
It's just 38 games into the Brook Lopez era (did I just use the word "era"? Am I really drooling ...), but it's not far off to start mentioning him in the same breath as other good, young centers. Probably not Howard (yet) or even Al Jefferson (yet), but he's closing in on Andris Biedrins of Golden State and Emeka Okafor in Charlotte and on equal, if not better footing than Kendrick Perkins in Boston. One game vs. an inferior opponent is hardly the ultimate litmus test, but Lopez displayed the ability to run and finish a fast break, take advantage of good low-post positioning and because of his jump shot, draw defenders away from the basket.
As somebody who watched the Wizards for years nurture Brendan Haywood along, it was often said by people who follow the game that "big men take a while" to get their bleep together. I kindly disagree. It may take a while to become the focal point of an offense, but for the most part, you can sense whether a big guy is going to have IT or not have IT. Haywood will never have IT. He'll be serviceable for a handful of years and go out to pasture without much fanfare. Odds are Lopez makes a mark in this league.
Don't believe me? How about his teammates Carter and Harris, who are both confident passing up a shot to get Lopez the ball?
"I thought just off the pick 'n' rolls we're getting great looks," said Lopez after the win vs. OKC. "Whether it's Vince, Devin or Keyon (Dooling), they just keep looking at the roll guy or they swing it at the corner where I can seal and then get easy buckets. They give me confidence to do that all year. So I just keep looking (for the ball)."
A 21-year-old confident rookie center? That's the start of something special.
---
On to the best CBSSports.com blogs ... around
Eli Manning was part of the driving force in last season's Super Bowl run. This season, Giants Future says the noodle-armed quarterback is a liability, so much so he's ruining homefield advantage.
Fox's BCS coverage, Jake Delhomme's horrendous performance and the Titans whining after their loss are just a few of last week's moments captured in the appropriately named 10 things I learned this week.
X Ball Hawk's X-Factor breaks down the Dallas coaching staff. For Wade, Jason, Brian and Bruce, the grades are as pretty as Terrell Owens dropped pass.
The Rockets are minus T-Mac (no surprise) and Ron Artest. Houston Rockets '08-'09 examines the ramifications and also wonders, what if the team is better off?
---
Klick of the Day